Essay On 2g Spectrum Scandal Episode
Editor's Note: A special court is likely to decide the fate of  former telecom minister A Raja, DMK MP Kanimozhi and several others in the much-anticipated 2G spectrum allocation scam cases. This article is only a  summary. For detailed account of A Raja's modus operandi see this story by Shalini Singh. 
Perhaps the most damning and least-known aspect of the Rs 1.76 lakh crore 2G spectrum scandal of 10 January, 2008, as it has now come to be known, is that the modus operandi of the scam-to-be was foretold by me in a series of well over 20 articles in The Times of India.
The 2G expose became the poster boy of a corrupt nation by showcasing corruption across a full 360 degrees; administrative and political culpability in violating government policies to rob the exchequer for private enrichment, (led to the Supreme Court judgment of 2012 cancelling all the "illegal" telecom licences), a corrupt media in collusion with big business and the PR industry (Radia Tapes) and the role of government law officers (Solicitor General Ghoolam Vahanvati) in facilitating rather than preventing the breaking of the law.
A Raja took over as Telecom Minister in May, 2007. At the time, I was assigned the telecom beat, in addition to several other ministry beats. Inadvertently, through the coverage of routine telecom events, the modus operandi of a scandal so massive, it would go on to rock the nation and de-stabilise the political fortunes of the ruling UPA government, began to unfold.
Policy violations detailed from October 2007
For the telecom beat, it began dramatically, with stories on the "gold rush": an ever-growing pile-up of licence applications in Sanchar Bhavan based on common knowledge that 2G licences in 2008, would be awarded at 2001 prices.
But it wasn't just about that. In granting licenses to favoured companies, Raja also helped them jump the queue. This, through illegally advancing the cut-off date and designing a bespoke first-come-first-served (FCFS) policy while ostensibly snubbing the then prime minister Manmohan Singh, law minister H R Bhardwaj, the finance ministry and his own senior officials advice to opt for fair and transparent auctions. Much of this now finds mention in the crucial section 70 (I – vii) of the Supreme Court judgment delivered in 2012 which cancelled all the 122 "illegally awarded" licences by Raja.
Raja ran amock, twisting every rule in the book. And every single deviation was documented in great detail.
But Raja was unstoppable. He and his team went ahead as per plan, immune to the fact that their intent and modus operandi to eventually loot the nation to the extent of Rs 1.76 lakh crore in full public view had already been detailed in one of the country's leading national dailies.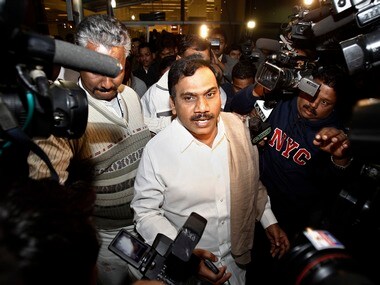 A file image of former telecom minister A Raja. Reuters
The very first article, indicating that the Rs 1,651 crore entry fee was "ridiculously low" and could attract "an army of bounty hunters" was written on 3 October, 2007 – a month before Raja revealed his devious plans to Manmohan Singh on 2 November, 2007 and 3 months before the scam. Articles on 11 October, 2007, 'DoT gets 575 applications for mobile licenses', on 24 October, 2007, 'Spectrum policy flawed', on 27 October, 2007, 'Auctions most transparent way of distributing 2G spectrum', on 5 November, 2007, 'DoT grapples with spectrum woes', on 6 November, 2007, 'Auctions unfair, Raja tells PM', on 9 November, 2007, 'DoT asked to process license applications', on 12 November, 2007, 'DoT may leave 26 applicants in lurch' and on 7 December, 2007, 'DoT ready to offer LoIs'.
The article 'Ministries don't buy DoT argument' identified the fact that Raja was about to illegally advance the cut-off date from 1 October to 25 September, 2007, to place a cap of 121 licenses out of 575 applications while intending to claim that he would follow the TRAI recommendations of 'no cap'. The articles also laid out the controversy of changing the order of priority by manipulating the FCFS policy of the government. This was done nearly three weeks before the scam through an article on 24 December, 2007 titled, 'Fee payment date key for telecom license seekers'. I also exposed the dissent within Raja's team on December 27, 2007, 'DoT wing warns Raja on LoI's'.
Further, as soon as the Swan and Unitech transactions yielded windfall gains, I was the first to point out on 30 October, 2008, 'Valuations reveal loss of government', and on 1 November, 2008, 'Telco deals show enterprise value: DoT experts say they are for spectrum'. These articles estimated the loss at Rs 45,000 crore from the Swan and Etisalat transactions. Following this expose, Raja on 5 November, 2007 decided to prohibit sale of promoters equity. Two years later, the CAG, in its report, independently arrived at the same figure of loss from the 122 licenses arising out of the Swan and Unitech deals. Similarly, immediately post the 3G auctions, my detailed article of 31 May, 2010, 'Not auctioning 2G spectrum cost government over 1 lakh crores', indicated a loss of roughly Rs 1,02,511 crore at 3G prices. Again, the CAG independently arrived at this figure six months later.
The 2G scam - simply told
Raja sold spectrum, a scarce national resource, at a fraction of its value to private companies, causing a staggering Rs 1.76 lakh crore loss to the exchequer. There is no law or power that restricted him from seeking an open, transparent auction in 2008 at a time when investors were queuing up for licences and spectrum in India.
There are many allegations against the minister apart from favoring a 2001 price of Rs 1,651 crore for pan-India spectrum. He also used a first-come-first-served (FCFS) norm to give away spectrum to select companies in January, 2008. Barely 10 months later, some new licensees struck lucrative equity deals at seven times this price without a single penny being invested in infrastructure.
The minister's modus operandi was worryingly simple. A few companies with unknown credentials and a few realtors with no telecom background filed for telecom licences/spectrum after he took office in May 2007.
Suddenly, on 25 September, 2007, he said the window for applications would close on 1 October. This ensured that no global firms could apply. Clearly, three days are not enough to find a partner, get FIPB clearance, or bring in paid-up capital.
Later, the minister made 25 September, once the date of announcement of cut-off, the actual cut-off. This helped him to arbitrarily hand-pick nine out of the 46 companies that had applied for 575 licences. No explanation was given for these decisions. The then prime minister, Manmohan Singh and then finance minister P Chidambaram conveniently looked the other way.
Then, on 10 January, 2008 with just a few hours' notice, Raja allocated 120 licences for roughly Rs 9,200 crore. The FCFS rule ensured that telecom companies had to engage in fist fights to secure a priority position in the spectrum queue.
The minister took refuge in a 2003 cabinet decision by the NDA government and a single paragraph from Telecom Regulatory Authority of India's (TRAI) 178-page recommendations of 2007 in defending himself. Raja says these documents favour FCFS while his critics, including TRAI, point to a clear vote for auctions in the same documents. Later TRAI's guidelines on mergers and acquisitions were suitably amended. While pretending to ban windfall gains for new licensees, a strategic opening for acquisitions was left open. This allowed new licensees to profit by wooing those very foreign companies that were strategically denied entry as a result of the arbitrary 25 September cut-off date. Money that rightfully belonged to the exchequer went into the pockets of rich industrialists.
Countless letters to Manmohan Singh appealing for accountability and redress went unanswered.
A PIL against the minister's alleged wrongdoings was admitted in the Delhi high court in 2008.
The courts hearing the PIL eventually dug out the real issues from the heap of obfuscating material and lies that the telecom ministry provided, including parading the decisions taken as high policy.
In February 2012, the Supreme Court cancelled all the 122 licences awarded in 2008 for a paltry Rs 9,200 crore, ruling that these licences and subsequently, all natural resources should be allocated through auctions/a fair bidding process alone. Spectrum auctions from 2010 to 2016 have yielded Rs 3.6 lakh crore to the exchequer. This is when the stock markets were not at their best performance.
Had auctions taken place on January 10, 2008, when the stock markets were at their peak, the staggering premiums realised by a couple of upstart firms would have flowed into the government's coffers.
For the courts, the 2G scam became an opportunity for a landmark judgment — to deliver both law and justice by adjudicating, without favour or political pressure and a fight for the rights of consumers and citizens versus the might of government and large business.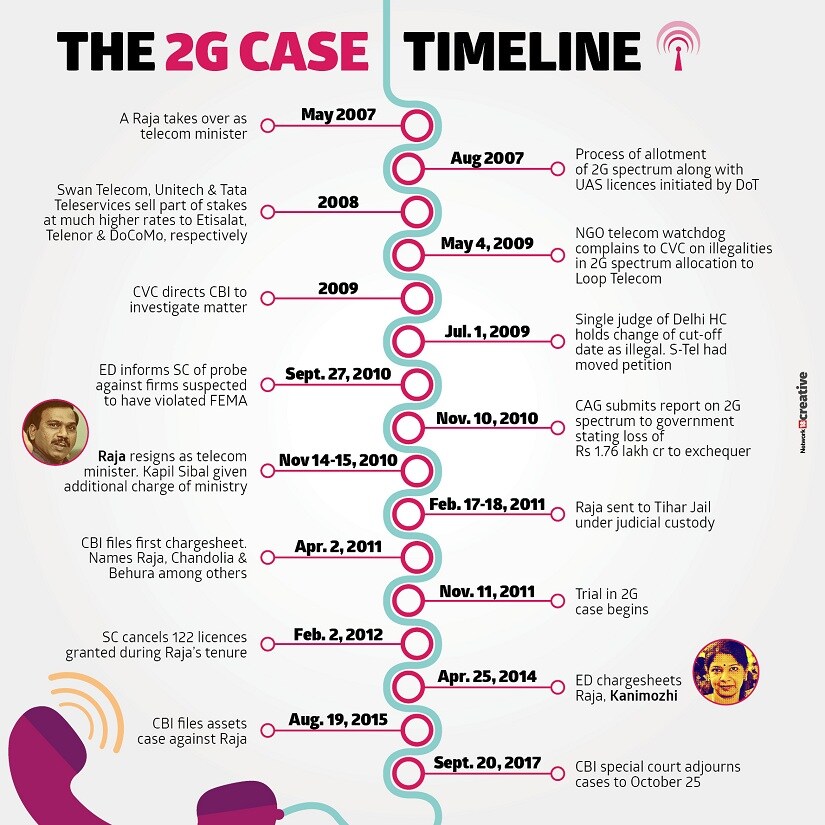 Published Date: Dec 21, 2017 08:48 AM | Updated Date: Dec 21, 2017 11:09 AM
Tags :#2g#2g Scam#2g Spectrum Scam#2g Verdict#2g‬#A Raja#Aircel#Andimuthu Raja#CBI#Congress#ConnectTheDots#DMK#Kanimozhi#Manmohan Singh#Niira Radia#Scams Under UPA Government#Sonia Gandhi#Supreme Court#Tamil Nadu#Telecom#Telecom Ministry#UPA-I#UPA-II#‪Andimuthu Raja‬#‪Central Bureau Of Investigation‬#‪Dravida Munnetra Kazhagam‬#‪Kanimozhi‬#‪M. Karunanidhi‬‬
The 2G Spectrum scam was listed second in the Times Magazine "Top 10 Abuses of Power" in year 2011. It was alleged that in year 2008, several politicians and government officials has charged lesser rates to mobile telephony companies for the frequency allocation licences used in creating 2G subscriptions for cell phone users.
Political dramas continued around the misappropriation of rates and finally lead to Telecom Minister A Raja's termination. CAG evaluated an estimate of Rs. 176,645 crore as the difference in the amount to be collected from the allocation of spectrum as per the law and actual amount that was actually collected. There were inconsistencies in the estimation done by various authorities. While CBI estimated a loss of 30,984.55 crore on 2 April, 2011, TRAI came up with an estimation of a gain of 3000 crore from the allocation of 2G spectrum.
The judgement of Supreme Court of India on PIL (Public Interest Litigation) put to rest all the speculations by declaring the allotment of spectrum as "unconstitutional and arbitrary" and further canceling all the 122 licenses issued during the tenure served by A. Raja, the prime accused in the scam. It was audited that spectrum licenses in 2008 were issued at 2001 prices as a result of which the mobile subscribers had increased multifold from 4 million to 350 million in a year.
The other allegations included- non compliance to the set procedures like no auction process being followed for allotment for spectrum, licenses issues on First-cum first-serve basis to the mobile companies. While the Telecom Regulatory Authority of India (TRAI) had recommended that spectrum be auctioned at market rates, Raja ignored the advice and favored some of the companies and in a way squandered the national asset.
The highly benefited companies by 2G spectrum Scam were Unitech, Swan Telecom amongst others. It was found that Swan Telecom got the licenses in spite of its inability to meet the eligibility criteria. While Swan paid Rs. 1537 crore, Unitech Wireless got the license for Rs 1661 crore. A total of Rs. 10,772 crore was paid by 9 DoT companies to buy the 2G licenses.
A. Raja
Others were also involved in the conspiracy with A. Raja. Kanimozhi, is who an MP and DMK Chief Karunanidhi's daughter was also into trap, as she along with Dayalu Ammal who are the owners of Kalaignar T.V. channel.
CBI alleged that Swan Telecom had sent a Rs. 214 crore as bribe to A. Raja which ultimately reached Kalaignar T.V. through a mess of companies. Shahid Balwa was also accused of colluding with Telecom Minister and helping him channelise the enticement he received into real estate. Even Sanjay Chandra, Unitech Chief was accused of cheating and conspiracy. ADAG was controlled by 3 senior executives of Anil Ambani who also landed up in Tihar Jail. Sidharth Behura was accused of disallowing the other Telecom Companies from participation in allotment and hence faced charges like Raja. Raja's Secretary RK Chandolia also faced the same charges.
Also Read:
Top 20 Corruption Scams That Rocked India Since 1947
Delhi Airport Scam? (DIAL Scam)
Kinetic Finance Limited Scam in India
Essay on Indian Coal Allocation Scam (436 Words)
Essay on the Granite Scam in Tamilnadu
Essay on the Back-Drop of the Scam in Indian Capital Market
380 Words Essay on Corruption in India